Figure 2 Part of photos of the 2nd, 5th and 6th China Energy and Environment Summit and their press conferences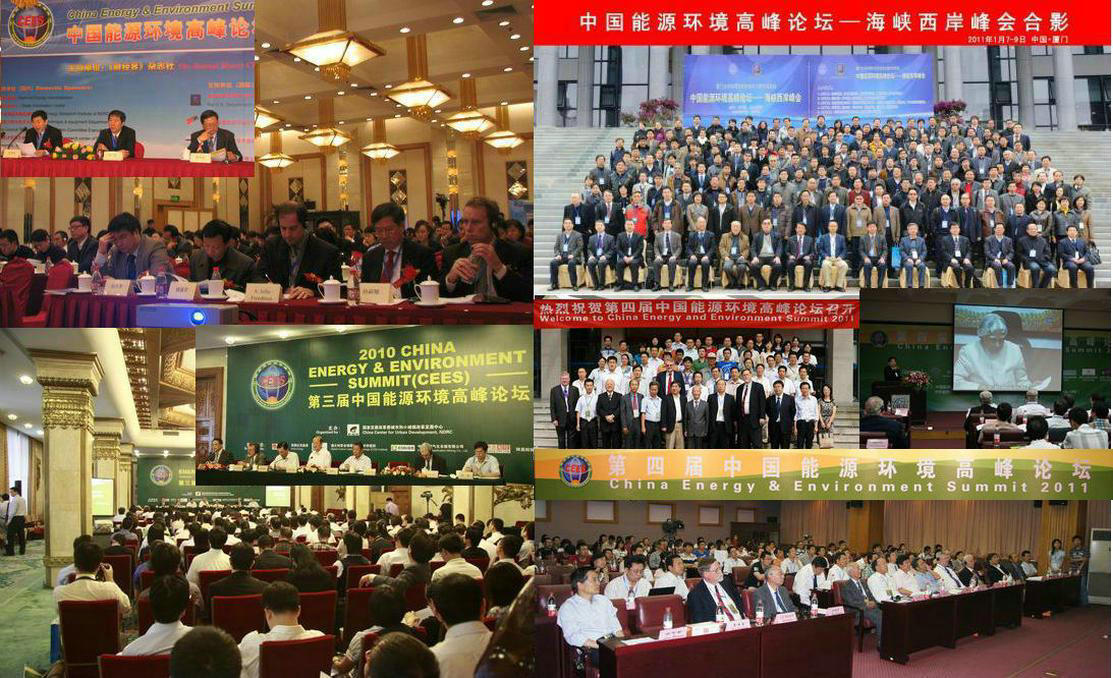 Figure 3 

 

Par

t of 

Photos from the 1st, 3rd, and 4th CEES and the CEES West-Coast of the Straits Summit
Firstly, a number of the world's top promoters of green development have been attracted to the Summit.
Of nearly 1000 guest speakers and senior experts gathered here, about one hundred are either leaders of competent ministries including CPPCC, NDRC, NEA, the Ministry of Environmental Protection, the Ministry of Science and Technology and state-owned energy tycoons; or counselors of the state council, 'Two Bombs and One Satellite' awardees, or academicians of Chinese Academy of Sciences and Chinese Academy of Engineering. Promoters of green development including the former president of India, Nobel Prize Winners and leaders of international organizations, the United Nations Secretariat, Fortune 500 companies, and multi-national enterprises are also among them. Most noticeable, at the second summit (the Global Think-Tank Summit – the China Energy and Environment Summit ), when WEN Jiabao, member of the Standing Committee of the Political Bureau of the CPC Central Committee met the major foreign guests attending the session, and LI Keqiang, Vice Premier of the State Council delivered a keynote speech at the general summit. Keynote speeches are delivered at each session by leaders and experts of NDRC, NEA or other energy-environment departments.
Secondly, a series of systematic theories and practice achievements have been collected and made which may influence the whole world.
Since 2008, around the green development and ecological civilization construction , have been made , a lot of new achievements including a series of green, low-carbon, energy-efficient, environmental, efficient innovations, inspiring advices, classic cases and systematic theory of Green Development have been forming. We gave scientific definitions to greening economy and energy, green energy revolution, greening institutional system and greening culture, science and technology as well as their internal logical relationships, and proposed the overall thought and basic solution for China to achieve green development, which includes breakthrough, key, security, foundation, objectives and technical support.
In the theory section of People's Daily, on the First article of theory section of Economic Daily , on the front page head piece of China Energy News have been published such important articles as Green Development- a Driving Force for Eliminating Haze, the Path Choice of Green Development , the book review of Green Development, the Global Dream , Supporting the Green Revolution by Energy Structural Revolution, Forcing low-carbon green transformation by Cleaning Air Pollution, etc., adopted by the central people's government of PRC, etc. On New Year's day special report 2016 (Colored across version) --Looking to 2016 new Trend of China's Economy by the Economists, Economic Daily has published the article Leading economic development Greening (with photo) which was a speech made by the LIN Zhiqin as a special economic domain experts and scholars of Economic Daily.
On the central mainstream media and media has published thousands of research reports (such as the annual China's energy development environment), papers, inspiring advices and classic cases, and news reports, which is a solid foundation of systematic thought of Green development, eliminating ash haze. We have officially published Green Development, the Global Dream(2014.11, left figure), The Theory of Green Development(Ash Haze Elimination)(2016.05), The Path to Explore the Global Think-Tank (2011.01, figure above), Economy: Green China (2013 third quarterly), compiled 7 editions of conference proceedings from 2008 to 2013, collected more than 320 papers and abstracts that add up to more than 2 million words and characters, and built a website of CEES containing over 10 millions of words in both Chinese and English.
The results have been recognized and given utmost attention by the State Council, NDRC,NEA, Central Committee Organization Department, Party Literature Research Center of CCCPC, Ministry Of Science and Technology, Environment Protection Department, Ministry of Land and Resources, Ministry of Industry and Information Technology, Ministry of Commerce , State Forestry Administration, China meteorological Administration, The Central Committee of the Communist Young League, All-China Federation of Trade Unions, Ministry of Education, United Nation Secretariat, U.S. Department of Energy, International Energy Agency, Provincial or Municipal Government of Shanghai,Hunan and Jiangxi, Provincial or Municipal Party Committee of Beijing Hunan, Jiangsu, Chongqing People's Congress, and have a widespread effect throughout the whole society at home and abroad. We have also given our opinions and suggestions on national green development and energy environment development, helped the common public from all circles understand the development of China's energy and environment issues and trends more effectively, grasp the guidance of government polices accurately, and promoting international technological and economic cooperation on energy environment and climate change.
In Nov. 2014, after having summarized a series of innovations, inspiring advices and classic cases systematically, the summit launched the first blue book---Green Development, The Global Dream. Published by Economic Press China, the book has been highly regarded by People's Daily: This book has offered a series of valuable viewpoints and claims for China's ecological civilization construction and the world's green development, and it has promoted a series of innovations of green development, and drawed a bright future for China's green development. Tens of thousands of institutions, media, communities and corporations such as CCCPC Party Literature Research Office, Organization Department of CCCPC, NEA, Central Committee of Communist Young League and All-China Federation of Trade Unions have spread and reproduced and adoptd green achievements of the book, which has promoted a further sustainable development of China Energy and Environment Summit. The blue book On Theory of Green Development(Haze Elimination) was promoted at the same time as well. This is what we have done before Political Bureau of CCCPC changed the "Four Modernizations" into "Five Modernizations" (Modernizations of New Industry, Agriculture, Informatization, Urbanization and Greenization) and firstly raised the idea of "Greening".
Thirdly, many organizations with international influence have become advocators of green development and our partners.
We have established partnership with more than 200 national and international organization, ministries of foreign governments, national ministries, the top energy and environment enterprises, famous institutions of higher learning, research institutions, and social organizations. By now, we have had more than 3000 representatives of conference and over 100 domestic and international cooperative central media, and they enlarged the influence of the Summit across the whole globe. The summit was started by follow organization (in the order of time): the National Information Center, NDRC, China Center for International Economic Exchanges, the Urban and Small-Town Reform and Development Center of NDRC and UIBE. Chinese Energy and Environment "Bai-Qian-Wan-Wan" activity was jointly launched by follow organizations: the Resource Saving and Environmental Protection Department of NDRC, the New Energy and Renewable Energy Department of NEA,UIBE and National Information Center. And other important supporters, sponsors and co-organizers including Institute of International Economy Institute of UIBE, National Climate Change Strategy Research and International Cooperation Center, internal reference editorial office of Economic Daily,China Economic Publishing House, Economy of Economic Daily, Xiamen University and the Department of Chemical Engineering of Tsinghua University. Organizations and individuals who have shared tight partnerships with us consecutively for more than 4 times are former President of India and French Air-Liquefied Group Global Engineering Technology. Organizations and individuals for more than 3 times are Lexus China, U.S. Space Technology Association, U.S. National Department of Energy's Lawrence Livermore National Laboratory, Air-Clean Task Force. Organizations for more than twice are Beijing Environment Exchange Institution and Lexus China. And some important sponsors are Duke Energy Corporation, Lexus China, U.S. Ministry of Energy Laboratory "Lawrence Livermore", WWF, Rouge H2 Engineering GmbH, French Air-Liquefied Group Global Engineering Technology, China EU Energy and Environment Project Office, the Australian Commonwealth Scientific and Industrial Research Organization, GCCSI of Australia, the European Space Energy Group, Shuangliang Eco-Energy Co., Ltd., China Academy of Space Technology, Chinese Youshenjia New Energy Co. Ltd ,Xinao Coal Mining Co. Ltd ,Beijing Yishui Environment Investment Co. Ltd.,Glamor Photoelectric Science & Technology Co.,Ltd in Beijing etc..
Fourthly, we launched a large number of world-class innovative technologies and excellent haze-eliminating products.
A key feature of the Summit was that equal attentions were paid to the macroscopic development, policy planning, technologies and products. The summit focused on the introduction of carbon capture and storage technology, HyStORM(Hydrogen storage via Oxidation and Reduction of Metals), Lexus hybrid cars, space solar power plant technology, Haze Cleaner, LED Air Purifying Lighting, clean energy conversion technology, lithium bromide central air conditioning technology and many other world-class innovative technologies and excellent products.
On the 1st CEES, we released the core technologies of green low-carbon economy from US, European Union, UK, Australia and China, such as clean coal (carbon capture and sequestration), wind energy, advanced solar energy, natural gas, biomass liquid energy technology, etc.
The 2nd CEES focused on the promotion of carbon capture and sequestration, clean coal intelligent technology, light and solar polymerization board technology in US, China and several international organizations as well as the launch of the solar thermal power generation technology, the windmill technology, genetically modified biological energy technology, hydrogen and fuel cell technology, water reduction and low consumption energy technology, gas power generation technology, the development of coal liquefaction and coal gasification and bio-fuels from the United States, China, Japan, France, Canada, Scotland, OPEC and other international organizations.
The 3rd CEES paid much attention to the China-US underground coal gasification technology, energy-saving and emission reduction technology and new energy; introduced carbon capture and sequestration, new energy technologies, combustible ice, mantle oil and gas, recycling economy technology and other non-food biomass from US, Australia, China and international organizations.
The West Coast of the Straits CEES put an emphasis on new energy, energy saving, finance and energy, introduced more than 20 technologies such as fuel ethanol, solar grade polysilicon materials, power batteries, nuclear safety technology and (financial) dynamic panel data models in bio-energy, PC power generation, chemical power and advanced nuclear energy area.
The 4th CEES focused on space solar power, biomass energy,, and promoted space solar power plant technology, key materials of space solar power, space solar power thermal power generation technology, nuclear safety technology, Microwave Power Transmission technology, bio fuel, gaseous biological fuel, biogas technology BioHythane technology, lignocellulosic sugar technology, enzymatic hydrolysis lignin and cellulose ethanol from US, India, China, Europe, UN and other international organizations.
The 5th CEES focused on energy-saving technologies, new energy and space solar energy, and introduced lithium bromide central air conditioning technology, low times laser power generation technology, solar assisted media conversion technology, space solar power and its key materials technology, the key technology in space solar energy collection, efficient and clean coal technology,ENN underground coal vaporization technology and the second generation energy crops of Biogas Engineering Technology developed in China, India, American and Europe.
The 6th CEES as well as 2013 "Bai-Jia-Jiang-Tan" activity (hundreds of discussions) focused on the atmospheric pollution control technology and clean energy conversion technology, introduced LEXUS hybrid cars, Lurgi, clean energy conversion technology (fixed bed dry slagging discharge gasification, gas purification technology, MTP technology), big data technology (Intelli, , gent City ), space solar satellite and ground system, low-cost space transportation system, building of energy efficiency innovation technology , UHV technology and the smart grid used in Japan, France, the US, India and the UK. ,
The 7th CEES focused on urban haze control technology, green-lowcarbon-energysaving technology, and introduced LEXUS hybrid cars, Lurgi clean energy conversion technology,space solar power technology,LED on-demand lighting technology, XiangJianHuan Camellia-oil(Mindong,Fujian) ect. from Japan, France, the United States, India, China.
The 8th CEES proposed that we should develop greening by green technology, and introduced series of world-frontier green technology and products including HyStORM, Haze Cleaner, Vehicle-mounted energy conservation and emission reduction facility, Charging unit for vehicle, LED Air Purifying Lighting, Automobile Exhaust Filter Unit/Automatic Remote Control to Quell Fire.
Fifthly, we gathered tens of thousands of media and institutions to spread ideas of green development and ecological civilization construction.
We have made leapfrog progress towards our commitment "Wan-Wan-Yi-Zhong" by gathering tens of thousands of media and institutions to spread ideas of green development and ecological civilization construction over the past eight years. We are committed to benefiting at least one hundred million people through the "Bai-Qian-Wan-Wan" Activity Plan of China Energy and Environment. To achieve our goal, we disseminate knowledge and technologies of energy and environment domestically and globally via more than 60 central mainstream media at home and abroad, CEES web-sides, Weibo, videos, multi-media of all the provinces and autonomous regions and students from over 30 universities and colleges, along with reprints of tens of thousands of media and institutions. As a result, advertisements of this initiative on media have achieved remarkable success, significantly transforming the majority of participants into both participants and audiences.
The cooperative media who reported the news mainly include People's Daily, People's Daily Overseas Edition,Economic Daily, Guangming Daily, Xinhua News Agency, CCTV and its Chinese Channel, China Radio International (CRI); China Energy News, China Automotive News, China Daily, China Electric Power News, China Environment News, Science and Technology Daily, China Land Resources News, China Securities Journal, China Aviation News, China Industry News, China Chemical Industry News, China Petroleum News Center, State Grid News, China Petrochemical News, China News Service – Zhejiang Branch, Hainan Daily, Xinmin Evening News, Shaanxi Daily, 21st Century Business Herald, China Business News; People.cn, GMW.cn, China Economic Net, ECNS.cn, Energylaw.cn, China.org.cn, XHNeng, National history Network, Netease, Sina Environmental Protection, China Economic Information Network, Chinadaily.com.cn, Takungpao.com, ifeng.com, Qianlong.com, Chinese TV network platform, world lighting network, Govinfo.so, Zhonggong civil service exam Network; Economy of Economic Daily News, QIUSHI, China Soft Science Magazine, People's Tribune, People's livelihood weekly, China National Conditions and Strength, China Machinery & Electric Industry; Channel 2 of The Republic of Belarus National Television, MediaCorp, Reuters, Asahi Shimbun, Dow Jones Newswires, Public Radio International of the U.S.; China Economic Publishing House, Economic Daily Publishing House, Meishang Tianlong International Book CO., LTD, Beijing Wangfujing Xinhua Bookstore, Zhejiang Xinhua Bookstore, Shanghai Xinhua Media Library Service Station, Jingdong Mall, Dangdang.com, Langlang.cc, Amazon China, bookdao.com, etc.
Main institutions that have reprinted and adopted the news include Central People's Government; NDRC, NEA, Ministry of Environment ,Ministry of Science and Technology, Ministry of Land and Resources, Ministry of National Defense, Ministry of Industry and Information, Ministry of Commerce, State Forestry Bureau, The State Administration of Radio Film and Television, National Planning Office of Philosophy and Social Science, China Meteorological Administration, State Administration of Work Safety, State Administration of Coal Mine Safety; Organization Department of the CPC,Central Communist Youth League,All-China Federation of Trade Unions,Work Committee of Central Government Departments ; CCCPC Party Literature Research Office, Central Party School, Development Research Center of the State Council, Chinese Academy of Social Sciences, National Climate Centre ; China Petrochemical Corporation, China National Nuclear Corporation, China DaTang Corportion ;Energy Law Research Society of China Law Society, China Electricity Council, China Electric Power Promotion Council, China Petroleum and Petrochemical Engineering Society, China National Coal Association, China Electric Power Planning and Engineering Association, China Association of Enterprises, China association of experts and scholars,International Green Economy Association;
Provincial or Municipal Government of Shanghai,Hunan and Jiangxi, Provincial or Municipal Party Committee of Beijing, Hunan, Jiangsu, Chongqing NPC Standing Committee, Fujian Provincial Office of ecology province construction; the CPC Shenzhen Municipal Committee and Shenzhen Municipal People's Government,, the CPC Xiamen Municipal Committee, the CPC Qingdao Municipal Committee of China; Beijing Forestry Carbon Administration, Science and Technology Promotion Center of Sustainable Development in Beijing, Organization Committee of Guangdong Province, Development and Reform Commission of Yunnan, Zhejiang and Shanxi, Environmental Protection Bureau of Hubei,Chongqing and Hebei, Hubei Environment Monitoring Center, Shandong Provincial Government Energy Conservation Office, Sichuan Provincial Party Committee Central Group Network Study Platform, Economic and Information Commission of Zhejiang ,Sichuan and Shanxi, Provincial Party Committee Propaganda Department of Jiangsu, Henan and Yunnan, Hubei Department of Housing and Urban-Rural Development, Science & Technology department of Jilin Province, Heilongjiang Provincial Information Center ect. Many viewpoints was also listed as a hot-spot of essay tests in State Civil Service Examination.
In the future, we will bring together outstanding suggestions, persons, classic cases and innovative technology and products through the official publication of the Blue Book of CEES , to lead tens of thousands of media, institutions as well as associations to spread, reprint and adopt green achievements though hundreds of central mainstream media, and actively participate in International Forum on Energy Transitions by National Energy Administration(NEA) and International Renewable Energy Agency(IRENA) , organize China's Green Development Situation Analysis,work close with 2016 World Clean Energy Conference at the Unite Nations in Geneva. We will strengthen and develop the achievements of the "Bai-Qian-Wan-Wan" Activity Plant of China Energy and Environment,and further promote a higher level of sustainable development of CEES.